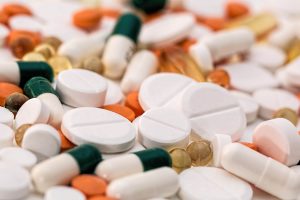 There are four main kinds of pain medications:
Anti-inflammatories:

Ibuprofen
Motrin
Aleve
Cortisone
Prednisone

Analgesics

Vicodin
Norco
Tramadol

Muscle Relaxants

Flexeril

Antineuralgics or Anticonvulsants

Gabapentin
Lyrica
Anti-inflammatories stop your body from entering the 1st stage of the healing process. Inflammation is the first stage. Inflammation can cause pain because the swelling causes pressure to build up. Anti-inflammatories reduce pain because the swelling goes down, but keep in mind that you are inhibiting part of your body's healing process. Corticosteroids like cortisone work similarly, but they cause more localized damage to your soft and tissue. They create what is called biochemical lesions, that essentially eat the tissue in that area. This can cause serious weakening of the integrity of the tissue and destabilize the injection site.
Analgesics like Vicodin, and other opiates, flood the brain with dopamine. The good feelings from the drugs override the pain you are feeling from your injury, and you feel relief. One of the dangers is that you don't have the pain which is there to keep you from doing things to exacerbate the injury, so you are not aware that you are performing movement or actions that are worsening the injury.
Muscle relaxants like Flexeril are in the same family as anti-anxiety medications. They don't just go in and shut down muscle contractions. They promote an overall sense of relaxation which can take the edge off when you are having severe muscle spasms.
The last type of pain relief medication is Anticonvulsants or what we call for our purposes antineuralgics. Neuralgia means nerve pain. This medication can help calm down overexcited nerves. So, when nerves are producing more of a pain signal than appropriate, or producing a pain signal when they shouldn't be (like in the case of fibromyalgia) these drugs calm down the overexcited nerves helping to control pain.
While pain-relieving drugs can be helpful for short-term relief, they all have side effects we would rather patients avoid, or minimize, so, it's best to find the root cause of your pain as soon as possible and take steps towards solving it. We would love to work with you to help find the source of your pain. Call 916.488.4223 to make an appointment with one of our therapists.
Social Share