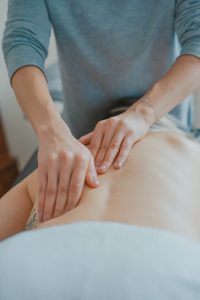 We need information to provide successful treatments. LOTS of information! We perform comprehensive evaluations and consultations before each treatment session. We also collect data regarding your health history, specifics on your current discomfort, lifestyle habits, medications, past surgeries, and current health program. Any x-rays, MRI reports, or lab reports we can see are beneficial in providing you with the best treatment. This information is critical for us to be effective. It is why we are so good at what we do.
Each treatment is tailored to you. We start with an exam to gain information about your pain, what is causing it, and what we can do to help. Then we put a treatment plan in place to ensure that each session builds on the last. As we progress, we devote more time to hands-on work and less time gathering information so that you get maximum benefits from each treatment.
The hands-on treatment you receive might be different than your expectations of massage therapy.
Our patients come to us with goals such as pain relief or function improvement, and each session is designed to help you reach your goals. We don't perform cookie-cutter treatments. We have a wide variety of modalities available to best meet your needs. We don't believe one style or modality is better than another. Our motto is "The Right Treatment, at the Right Time, Applied in the Right Way."
Soft tissue holding patterns require you to be relaxed in order to let go, which can take some time, our initial sessions last at least 80 minutes, including pre and post-session consults. If you have any other questions about what to expect during your session, please give us a call at 916-488.4223.