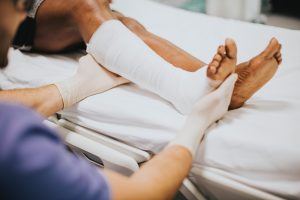 One of our biggest pet peeves is finding out that someone that we care about has been dealing with a musculoskeletal issue and didn't call us because they didn't think we treat that specific injury. We address all kinds of musculoskeletal problems, and if for some reason we can't help you we can always refer you to someone who can. We are proud to offer free phone consultations to anyone who needs one, and we fully expect you to take advantage of this! Body Fix Therapies treats sprains and strains in Sacramento, California.
When people get hurt, they are often extremely excited to get the news that their injury is just a strain, or just a sprain instead of a broken bone. We hate to tell you this, but often a sprain can be worse than a break. Broken or fractured bones heal a lot faster than strained or sprained muscles and ligaments. Why is this?
There are two reasons:
Physiologically, bones heal a lot faster than ligaments do. Ligaments only get 3% blood supply, and this means they can take months to properly heal as opposed to a mild bone break that can recover in a matter of weeks.
People take bone breaks a lot more seriously than ligament strains. They are more likely to listen to their doctor's orders and rest a fractured bone. Plus, broken bones are usually in a cast for 6-8 week, meaning they don't even accidentally get used.
Sprains, on the other hand, are often thought of as something you can work through. People skip going to the doctor and try to ice, stretch it out, and continue with their lives. Working through a strain is not going to help it heal.
More Problems Arise
We often see secondary injuries when people keep using a strained muscle or joint instead of resting it and getting the care they need. Your body works around your pain by compensating with other muscles to get the job done. This results in muscles doing jobs that they shouldn't be doing and overuse injuries start cropping up. Also, if you use a sprained or strained body part too much, scar tissue will build up around the injury resulting in long term discomfort and reduced mobility.
If you sprain a joint, you need to treat it as if it is a broken bone. Your body needs extreme rest to heal. Make sure you take excellent care of the injury and let your body take over. If you have a sprain or a strain give our master therapist Kym a call at (916) 488.4223. She is happy to talk you through your injury, discuss treatment options, and make sure you are rehabbing yourself properly.
Social Share