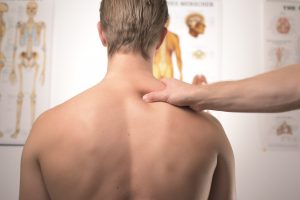 We don't have a Chiropractor on site, but we often refer our patients to our partner chiropractors in the Sacramento area. Chiropractic and Massage Therapy maximize each other. Neither is better than the other. They are simply tools that do different jobs and work better when performed together in a treatment plan.
By utilizing chiropractic and orthopedic massage therapy together, we help our patients achieve a fully balanced, functioning musculoskeletal system.
Bones are held in place by the muscles, tendons, and connective tissues attached to them. When bones are out of place, the soft tissue is often the root of the problem. Chiropractic adjustments put the bones in the proper alignment, showing the soft tissue where it's supposed to be and relieving pressure on the nerves. With regular adjustments, your soft tissue will learn to stay in place.
Orthopedic massage therapy treatments teach your muscles to release from dysfunctional holding patterns, allowing your bones to fall into place.
We notice significant improvements when our patients receive chiropractic care at the same time they see us. Best results occur if you get massage therapy one day and have a chiropractic adjustment the next day. Waiting 24 hours after your massage treatment allows your body to stabilize. This way, the force of the adjustment is productive, and your tissue is still soft from the massage, meaning the chiropractor can use less force for the adjustment.
We Work With The Following Chiropractors in Sacramento
Dr. Heather Dehn.
916.488.4223
4343 Marconi Ave Ste. 5
Sacramento CA 95821
www. dehnchiropractic.com
"Dr. Heather is the best chiropractor I have worked with in 20 years. I send her patients that have had bad chiropractic experiences in the past, and everyone loves her. She is careful and trustworthy, never going too fast for the patient's comfort level. She communicates with us so that we are on the same page with the treatment program."
-Kym Adair, Master Orthopedic Massage Therapist
Dr. Michael Lowe
916.339.2436
5400 Watt Ave
North Highlands, CA 95660
"Dr. Lowe does the most comprehensive exams of any chiropractor I have ever worked with. He spends time with his patients to get a complete picture of what is going on with them and be able to treat them. "
-Kym Adair, Master Orthopedic Massage Therapist