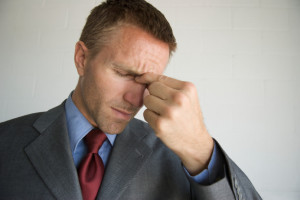 One of the leading causes of headache/migraine pain is muscle and soft tissue tension and spasm due to repetitive injury strain, although acute injuries, such as whiplash, are also main factors.
Repetitive injury strain is caused by being in the same position or performing the same movements several hours a day for long periods of time, often months or years.
Eventually this causes a dysfunction in the soft tissue that the body cannot fix by itself. It has become "programmed" to accept this condition as normal, despite the pain that it causes.
Massage is the most effective treatment for headaches/migraines as they treat the root cause of the problem, unlike drugs which affect only the symptoms.
Our headache massage treatments focus the entire time on the muscles and soft tissue in the cranium, anterior and posterior neck, and shoulders and jaw, which are the chief causes of head pain.
During the massage we not only soothe the distressed tissue to relieve pain, but use medical massage techniques to begin correcting the dysfunctions that are the underlying cause.